TESTIMONY: Land of the Master, My Trip to Israel With Jesus as My Guide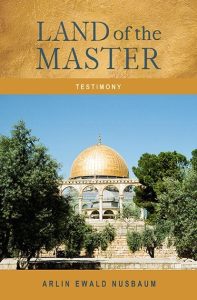 Click image to purchase.
Table of Contents
Preface
Introduction
1. Tourist Trap
2. Good Friday
3. Western or Wailing Wall
4. Garden Tomb
5. Nazareth
6. Galilee
7. Bethsaida
8. True Mount Transfiguration
9. Easter Morning – Garden Tomb
10. Condemned to Die
11. Where David Walked
12. Steps Where Jesus Taught
13. The Ascension of Jesus
14. Bonus Chapter
Appendix – Ron Wyatt & Ark of the Covenant
This book details the second of three overseas trips it was prophesied I would take back in 2003 (1st Geneva, Dec. 9-15 2003; 2nd Israel, April 9-11, 2004; 3rd Greece, June 5-11, 2004). I was not informed where the second and third trips would be; each one came with but little notice and were quite short.
Details of Trip 1 (Geneva) were in Spiritual Journeys – Volume II (2016) and can now be found in Scotland (2022). Details of Trips 2 (Israel) and 3 (Greece) were in Spiritual Journeys – Volume I (2016) as chapters "Land of the Master" and "Teacher of the Master."
Land of the Master was first released in 2004 and is included here in its original form, with the following expansions:
Additional information on the Western Wall
Clarity on where Jesus was crucified with additional picture and supporting information
Additional "Cave" section within chapter Nazareth
Additional chapter "Bethsaida" with pictures
New pictures reg. steps where Jesus taught
New picture in "The Ascension of Jesus"
Teacher of the Master has been added as a "Bonus Chapter"
New Appendix
With the writing of my book Temple Mount 11:11 Horn of God – The Vision in 2019, I noticed certain authors trying to confuse the subject of the ancient Temple's location. That's when I learned why Jesus brought me there 15 years earlier—He wanted me to provide a fresh, spiritual witness to it. Learn the truth now.