TESTIMONY: The Resurrection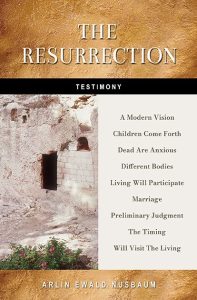 Click image to purchase.
[This is a greatly enlarged and updated edition of the book by the same title.]
The soon to be occurring Resurrection is nearly upon us, and yet it is one of the prophetic events that people watch for the least. This book describes this coming event and thoroughly documents it in scripture. This title comes on the heel of several other significant works (Spirits Among Us and Protocols for the Living About the Dead) and has relevance to them as well.
It covers such topics as:
A Modern Vision
Children Will Come Forth
The Dead are Anxious
Different Bodies
Living Will Take Part In
Marriage
Preliminary Judgment
The Timing
Will Visit the Living