TESTIMONY: Scotland – Mary Magdalene, Knights Templar, Rosslyn Chapel, Freemasonry Revealed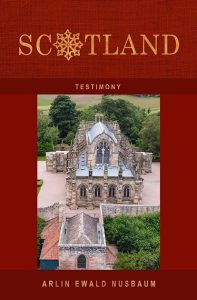 Click the picture to purchase.
"SCOTLAND" details the trip of Arlin and Tammy to Greece that was interrupted at the Heathrow Airport. All flights were cancelled for a week because of terrorist threats, so they travelled north instead into Scotland, to the famed Rosslyn Chapel, depicted in the ending scene of The Da Vinci Code.
Without former knowledge that its builder was Arlin's 15th great-grandfather or that he had any family ties to Scotland, there opened to him a total of 10 visions over the span of 2 days, of the past (and future) of Rosslyn, the chapel, and his Sinclair/St. Clair family line.
Different teachers were sent over the years to explain the visions, with the last being the Lord Jesus, who taught Arlin the truth regarding whether He married or faked His death.
Readers will also learn the truth about Mary Magdalene, the Knights Templar, the origins of Freemasonry, and who discovered America, including the precise location and day! They will learn who the enemies are, how the Times of Refreshing were fulfilled, a 20 generation pattern, a Moses parallel, and how Scotland helped fulfill Bible prophecy.
Table of Contents