TESTIMONY: Spirits Among Us – The Defiant Dead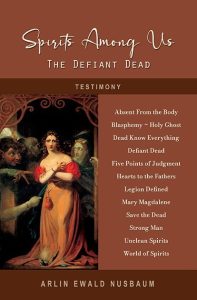 Click image to purchase.
Provides the theological framework for the reality of the dead hanging around us in defiance of God's command that the dead must return to Him and be judged. Anyone harboring the dead is guilty of harboring fugitives and the living are FORBIDDEN from talking to their dead loved ones. This act of defiance and our tolerance of said lawbreakers has become a bane on earth and must be corrected.
Table of Contents