TESTIMONY: America's Mt. Zion – Now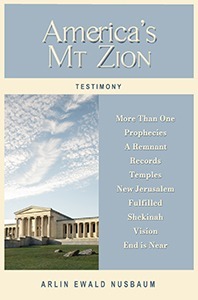 Click image to purchase the book.
There are two Mount Zions: one in America, and the other in Israel. Our Lord Jesus Christ will return to the American Mt. Zion before He arrives at the Temple Mount in Jerusalem. The Heavenly New Jerusalem will come to America's Mount Zion.
Updated October 20, 2023
Table of Contents
1. Introduction
17. More Than a Visit
18. Angola, Seneca Nation
19. The End is Near
20. Post Trip Actions